From first-time buyers to seasoned users, we support our customers in helping them choose the right professional laser level to meet their needs. Below we've answered the ten most asked questions to help narrow down your search for that perfect laser level.
What laser level should I buy?
To choose the correct type of laser level, you need to consider the jobs it will be used for. We have provided a summary of the main types of laser levels and what their primary uses are.
Cross Line Lasers:
Typically used indoors, a cross-line laser emits horizontal and vertical laser lines at 90°. Higher-end models also generate 360-degree lines around a room and can be visible over distances of up to 40m. Primarily used indoors for a tiling, kitchen, or cabinet set-out, electrical drywall setup, partitioning etc, cross-line lasers can also be used for small outdoor projects when paired with a laser detector. Some Imex Cross Line Lasers also incorporate dot lasers to produce plumb spots up and down for extra versatility.
Rotary or Rotating Lasers:
A rotary or rotating laser is primarily used for larger outdoor projects such as concreting, excavation, landscaping, general building, levelling, and groundworks.
Rotating lasers generate a 360-degree line over an area and due to limited visibility of the laser outside, are paired with a laser detector and measuring staff to detect the beam. Some models can be turned on their side and emit a vertical rotating beam and have modes to automatically generate a gradient or slope to work to.
Dot Lasers:
A dot laser emits only dots (not vertical or horizontal lines) which are usually a plumb down, plumb up, and a horizontal dot at 90°. Some dot lasers have three horizontal dots at 90°.
Dot Laser Levels are useful for transferring a point from floor to ceiling and are used, for example, by electricians to identify electrical light placement for installing spotlights and ceiling lights within a room.
How accurate should a laser level be?
Depending on the quality of the laser diode and the levelling mechanisms, the accuracies of lasers vary. You should always choose a laser level that is well within the tolerance of what professional trades work to.
Accuracy of a good dot and cross-line lasers are usually within +/- 2mm at 10m distance while rotating lasers are typically 1.5 – 3mm at 30m. With the latest in laser technology, all Imex laser levels perform well within the expected accuracy guidelines that professional trades work to and at greater distances.
Are all laser levels self-levelling?
All Imex lasers come with a self-levelling feature as standard for ease of use and saving valuable time on site. However, be aware that cheaper laser levels can involve manual self-levelling which can take time to set up and if accidentally knocked will need to be checked to ensure accuracy is maintained.
For efficiencies and accuracies, we put the self-levelling feature as one of our key must-haves when purchasing any professional laser level.
What colour laser beam should I choose, red or green?
Recent advances in technology have seen the development of laser levels with green lasers. The human eye can detect green up to four times better than red, so a laser with a green diode emits a beam that is more visible over a longer distance, which can be an advantage in interior work. However, green diodes cost more to produce so green laser levels tend to be more costly than an equivalent red beam and they are more battery hungry. You can read a more detailed comparison of red and green lasers here.
Green beam is the best selection for all-round construction and tradesmen who do a mixture of interior and exterior work. However, for those who will primarily use a rotating laser for outside construction and landscaping work, then either colour laser will be fine for most scenarios. This is because the laser is hard to see or invisible in most daylight situations, so a laser detector is used to detect the laser regardless of colour.
How often do I need to get a laser level calibrated?
Proper laser calibration is essential for the continued accuracy of a laser level. Make sure you purchase a laser level that has had a pre-sale calibration and accuracy check like all Imex lasers.
If used daily, which many groundsmen or tilers will, the laser unit should be recalibrated every 6 months, or if it takes a knock. If used once or twice a week then getting the unit checked every 12 months or even 24 months is acceptable.
How do I tell when I need to get my laser level calibrated?
Basic level checking can be determined by projecting the beam or dot to a wall 5-10m from the laser, then turning the laser 180° on the tripod or mount and checking if it lines up or is within accepted tolerance or the manufacturer's specifications. If it is out, return it to your dealer or service centre. Some laser levels can be calibrated on-site – a big advantage over some more traditional levels.
What is an IP rating?
The IP code is a worldwide standard in classifying the protection of electrical and electronic instruments from shock, foreign objects, and water. The first number of an IP rating represents protection against ingress of solid foreign objects into the tool with seven levels from 0 to 6. The second number represents protection against ingress of water with nine levels from 0 to 8. The higher the numbers the better the rating; therefore, the top rating is IP68.
IMEX take durability and toughness very seriously with all crossline lasers being IP65 and rotating lasers being IP66 rated. We have also won industry awards for both heat a drop testing on numerous models of our range.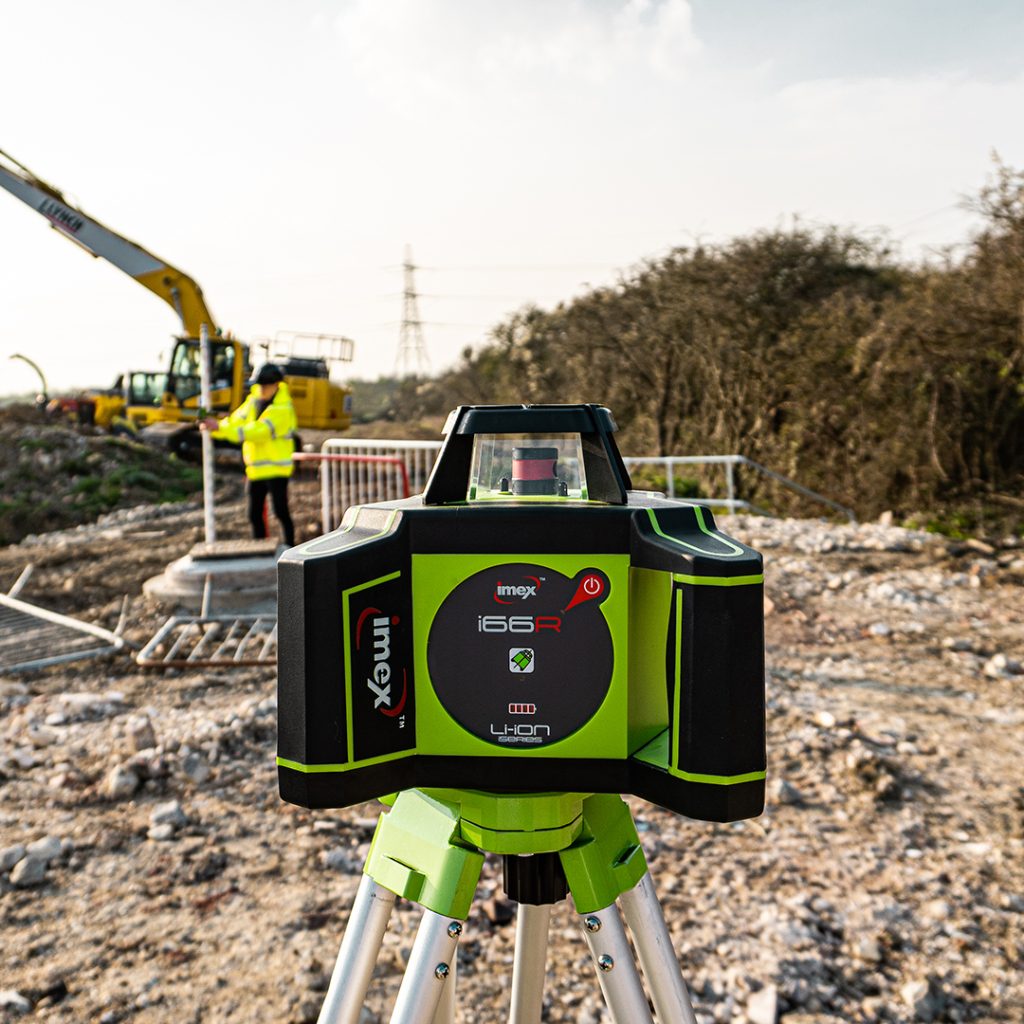 Do laser levels work in extreme conditions?
From the IP ratings above laser levels can be used in the rain, but in heavy downfalls or storms, you would certainly be a keen tradesman to continue working!
If a laser level does get wet then ensure they are well dried before being stored in their cases, as increased humidity in the enclosed environment, will allow water particles to enter the casing of the unit which can damage the important internal parts of the laser level.
In terms of temperatures, most laser levels will work in conditions ranging from -10 degrees to 45 degrees which within the UK is rarely challenged.
Turbulence or high winds can affect the performance of rotary lasers on outside projects. The Imex range of rotary laser levels comes with a 'High Wind Sensitivity Re-set' feature to reduce the impact of turbulence in high wind.
To ensure accuracy in such conditions and reduce vibrations travelling through the laser level, try and set up the laser level in a sheltered location. We also recommend using a sturdy tripod to reduce the risk of tipping and damaging the unit.
Do Laser levels come with a warranty?
We strongly recommend choosing a laser level with a warranty for that peace of mind as laser levels are a big investment for businesses let alone sole traders. Here at Imex we provide a minimum of three-year warranties on all our professional laser levels and calibration certificate straight from the factory.
What additional accessories will I need when purchasing a laser level?
One of the key accessories to consider, if not included with the laser level as standard, is mounting brackets or tripods to ensure the easy set-up, use and accuracy. Each manufacturer should supply a range of magnetic mounting, clip brackets and tripods to ensure you get maximum accuracy out of your laser level.
Due to the minimum visibility of a laser level beam outside, an excellent quality laser detector and staff to detect the beam and mark measurements will be required. All Imex rotary laser levels come bundled with an appropriate laser detector and staff as standard.
For heavy users of laser levels, you don't want to get let down on the day by power. Imex laser levels lithium batteries will get you through a working day, but it is nice to have a backup if you forget to recharge the unit after a hard day's graft.
Those were our top ten questions answered. We hope you found this article useful but if you have any further questions then you can contact us or check out our range of laser levels online.